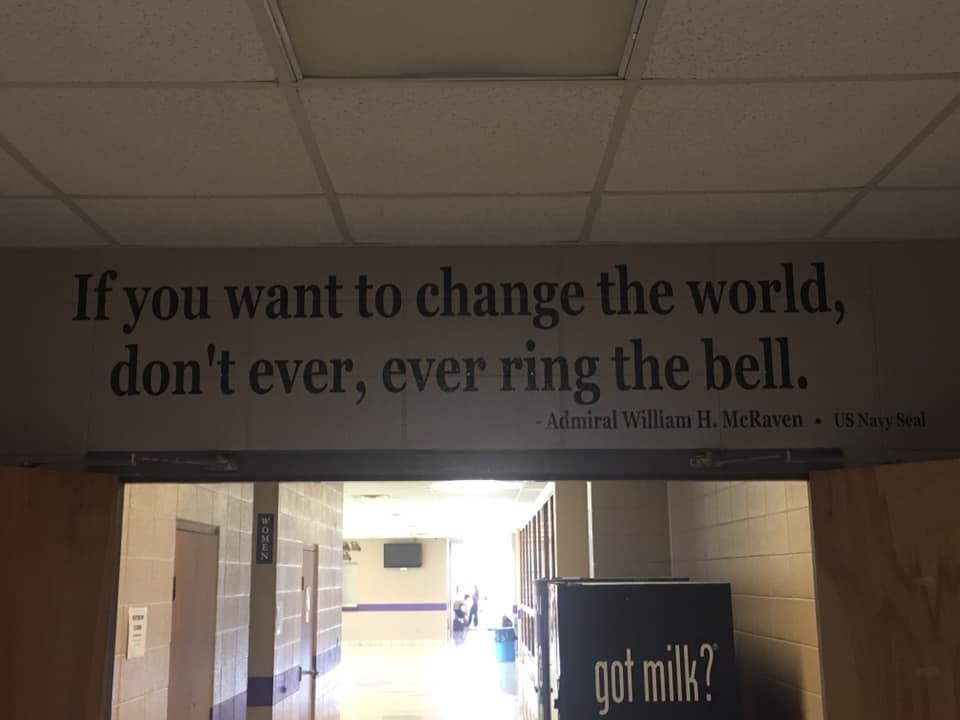 FGHS FAQs During COVID-19
Principal Stallings
Monday, April 06, 2020
Parents and Guardians,
I want to express my gratitude for your ongoing support, flexibility and understanding in these difficult days. Your words of encouragement have been truly uplifting as we are doing our best to navigate through this school closure. Your role as parent has changed dramatically and we appreciate all that you are doing.
I am equally appreciative of all that our teachers are doing to provide some measure of learning experiences for our students. This was an enormous transition that they had very little time to prepare for. At the forefront is their concern and compassion for the well being of our students. I know that I can speak for our entire staff that we are longing for the day to have students in our school once again.
My sincere hope is to provide transparent and accurate communication during these uncertain times. This correspondence is aimed to add some clarification for you. We find ourselves held in a "wait and see" scenario, but in spite of that, we want to have a specific plan in place and I hope to offer you some insight into our blueprint for moving forward.
As always, we are readily available to address any needs or concerns that you have. Please don't hesitate to reach out and contact anyone on our team that can be of an assistance to you.
Chris Stallings- Principal
Christian Overstreet- Assistant Principal/Athletic Director/A+ Coordinator
mailto:overstreetc@fgsmail.org
Tonya Peck- Counselor
What are the expectations for students working online and completing printed packets during this extended break?
The most important thing to remember is that families are NOT expected to recreate school at home. Our teachers at Fair Grove High School and across the district are developing enrichment activities that build upon previously learned material as well as learning experiences that will prepare students for a hopeful return on April 27th. These activities are not counted for a grade but students are encouraged to remain active in learning and to complete them to the best of their ability.
What about grades and credits for this semester?
This is the biggest question facing our school and all high schools across the state. There is no great answer but we believe that it is imperative to have a plan in place that addresses two scenarios. To be clear, we are approaching business as we are returning to school on April 27th. However, we know that realistically we have to prepare for the chance of an additional closure. As a result, I want to present both of the scenarios and how they relate to fourth quarter grades:

Return to school on April 27th: Learning activities being sent home now are in preparation for students return to school on the 27th. 4th quarter grades will be based on culminating activities from the April 27th return until the end of the school year. Culminating activities and grades will be designed in a manner to help students and not hinder their academic progress.
Extended closure: In the event of an extended school closure students fourth quarter grade will be the grade they received 3rd quarter. In order to help students, if this scenario occurs all graded assignments from 3rd quarter will be reopened and students may complete any assignment for full credit. This will allow all students the opportunity to raise their fourth quarter grade. Each student will be contacted by their 8th hour advisory teacher to explain this opportunity. Teachers will carefully articulate to students in this phone call that they will need to reach out to the teacher of the class or classes that they wish to resubmit materials.
Will there be summer school this year?
There have been no changes at the state level at this point in regards to Summer School. As a district, we are continuing to exercise patience. Many families will need answers to questions pertaining to how the school year will end before making decisions about summer school enrollment.

When more concrete decisions are made about summer school, forms will be made for enrichment and credit recovery.
How will the extended school closure effect extracurricular activities?
All activities and athletics are postponed indefinitely. This is not just a local decision. The school is governed by the Missouri State High School Activities Association and we continue to await feedback from them. When school resumes a plan will be communicated to students and parents based on the recommendation of MSHSAA.
Will students be required to take End of Course Exams?
All testing has been cancelled for this year. If a student was enrolled in a class with a required EOC for the 2019-20 school year, that student will be assigned a special exemption code that will follow them throughout their high school career. The code will stand in place of an EOC score for that class. Those students will not be required to take the EOC for the classes they were enrolled in during 2019-20.
How will my child schedule classes for next year?
Traditionally, students schedule classes for the following year in a school wide event known as arena scheduling. Mrs. Peck is currently in the process of recreating the steps of arena scheduling that will now take place virtually. You can expect your child to receive information regarding this topic in the very immediate future.
How will this effect my child's A+ eligibility?
Many components of the A+ program are still in place. GPA and attendance will be calculated from your child's freshmen year through 3rd quarter of their senior year. The one criterion that will heavily impact seniors enrolled in the A+ tutoring class this semester is the 50 hour tutoring requirement. The A+ Scholarship requires students to complete 50 hours of unpaid tutoring or mentoring. For the 2020 seniors, the number of tutoring/mentoring hours has been reduced to 25 to accommodate those students who are unable to complete 50 hours prior to high school graduation. If you have questions about your child's A+ status please contact A+ director Christian Overstreet.
Will we have prom this year?
The Covid-19 school closure has disrupted many important events in the life of our high school students. We will make every attempt to reschedule prom, including the month of June , if we are unable to host it on May 9th. We believe that after this difficult time it will be important that our students are able to experience this memorable event.
Will this effect my child's dual credit and AP courses?
The short answer to this question is no. However, with these courses being tied to college credit it is vitally important that your child is in communication with their dual credit teacher. The expectations for these courses will be determined by the universities. Students are expected to continue to cover new material and submit assignments. Students need to be checking their email frequently and communicating with their teachers if they are uncertain about something.

AP exams scheduled for May will still be completed. There is the option of the original scheduled time in May, an extension into June and an online option from home. A decision will be made in the coming weeks in regards to which option Fair Grove High School will choose. Once again, it is vitally important that your child is in communication with their teacher.
Here is a link to the AP Covid-19 Updates Page
Will there be changes to the graduation requirements for this years seniors?
All graduating seniors will need to complete the 26 required credits. It cannot be stressed enough how important it is to focus on previously assigned items and assessments that are being opened up for your child if they are in need of credits. Teachers will be reaching out directly to seniors who are in jeopardy of not passing their 2nd semester courses.

There have been a handful of requirements waived by the governor for the class of 2020. Many of these requirements have already been completed by the majority of our students.
1. CPR and Heimlich Maneuver statute
2. The Missouri and U.S. Constitution statute
3. The Missouri Civics Education Initiative statute
4. Personal Finance Requirement- Students currently enrolled in personal finance will not be removed
Will we have a graduation ceremony?
Graduation will be here before we know it and there are still many unanswered questions but none bigger than will we be able to host graduation at High Street Baptist Church on May 15th. Unfortunately, the answer to that question is we don't know as only time and the GCHD will be able to tell us. This is why I am asking those most effected to embrace flexibility during the coming days. Our number one priority is to have a face to face graduation but that could come with extending the graduation date.
I want to walk senior parents through a few different scenarios that we are fully preparing for:
Option 1- We are all clear and able to have graduation at High Street Baptist Church as originally planned. We will move forward with this plan until May 1st and will make further decisions at that point if social distancing restrictions are extended. High Street has assured us that if the ban is lifted we are still welcome to use their facility.

Option 2- Extending the date of graduation by a few weeks and considering alternate locations like the football field that will better allow for social distancing if the ban is extended with less restrictions.

Option 3- As an absolute last resort we will turn to a virtual graduation in which we will live feed a ceremony that will closely resemble our traditional ceremony with students watching and celebrating with their families at home as well as other ways to honor our graduates including drive in ceremonies and parades.
I am surrounded by an outstanding team and I know that whatever scenario we find ourselves in we will pour everything we have into a ceremony that brings the class of 2020 the honor and recognition they deserve.
What are the ways I can get my child's packet?
First and foremost parents needing hard copy packets printed for their child in place of online materials need to contact Mr. Stallings and let him know their child needs to be on the packet list.

Parents in need of packets are encouraged to pick them up each Tuesday night from 6-7 in the packet pick up line. If your child is part of the food distribution their packet will be distributed in the food line.
As a last resort those packets not picked up on Tuesday night will be delivered by bus on Wednesday afternoon from 1:30-3:30. Packets will be left on your porch or hung from your mailbox.
How can I get items from the building?
Every Tuesday night from 6-7 items can be picked up at the high school. This time is also utilized for our food distribution. There are two drive through lines on Tuesday nights. The first line is for food and packets while the second line is strictly for packet pick up only. Please refer to the signs in the parking lot. Students needing items from the high school should go through the packet only line and a staff member will take your request and pick up items from the high school.
My child ordered a class ring and I want to know when I can pick that up?
We have established a drive through pick up time with Jostens and that will be this Thursday April 9th from 6-7 in front of the high school office doors. Please be aware of the following information shared by Jostens:

1. Those who have not paid are encourage to pay online before Thursday to eliminate the handling of money
2. If paying with cash please place the exact amount in a zip lock baggie.
Additional Resource
Fair Grove Schools Superintendent FAQ Page

Link to Fair Grove High School Teacher Pages
Missouri Department of Education Covid-19 Update Page
Missouri High School Activities and Athletics Association