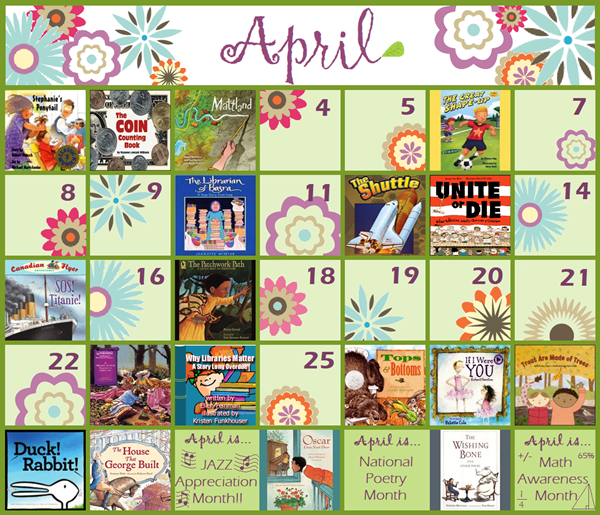 TUMBLE BOOKS - At Home Log In Info
Lisa Bernet
Friday, March 30, 2018
REMINDER TO PARENTS: With our Fair Grove Elementary School Subscription you also have access to these great digital books AT HOME!

CLICK HERE FOR USERNAME & PASSWORD INFO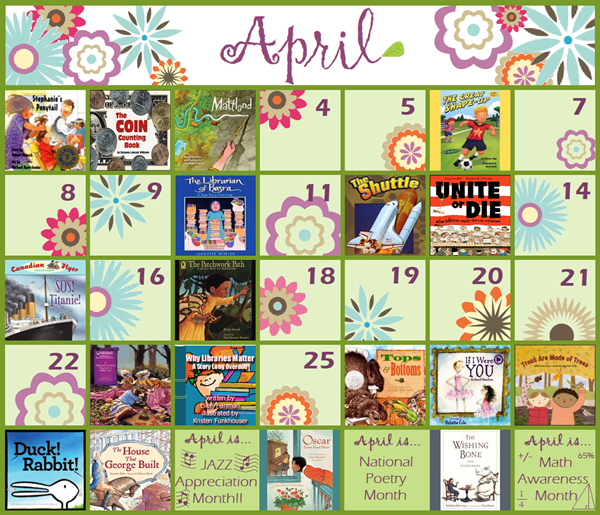 Dear Parents,
They say that March comes in like a lion, but goes out like a lamb. I hope that's the case where you live! Because April is here! It's the classic SPRING month! Rainy days, warm sunshine, and the smell of mud!
This month, you should definitely check out Robert Munsch's classic "Mud Puddle"!! Jule Ann can probably teach you a thing or two about MUD!
Don't forget to check us TumbleBooks on social media!
April 1

: April FOOLS!!

April Fools is a time when some sneaky, playful people like to switch the salt with sugar... or change all the clocks in the house!

What they all share is imagination and ingenuity - two traits that Stephanie has in spades!

Imitation is supposed to be the sincerest form of flattery, but sometimes you can cross a line. Stephanie is a trendsetter at school, but when everyone starts copying every original hairstyle she tries, she comes up with the perfect way to get everyone back!

It's positively hair-raising!
April 2

: On this date... Congress established the first US Mint

On April 2, 1792, the United States Congress established its first Mint in Philadelphia, PA!

The Coin Counting Book is a great way to incorporate a History lesson into Math class!
April 2

: Autism Awareness Day

Mattland is a beautiful story about loneliness and friendship.

Even though Matt is not explicitly described as being autistic, elements of the story might make it relatable to autistic children and their families.

The story uses an interesting first person visual perspective which literally puts the reader in Matt's eyes. You see his focus and determination. You see his solitude. You see kind faces trying to make friends, but Matt's apprehension at social interaction.

Slowly, as "Mattland" grows and develops, Matt also grows accustomed to "the outsiders".
April 6

: On this date... The first Modern-era Olympics were held

In 1896 the first Modern-era Olympic games were held in Athens, Greece. These were the first Olympics in almost 2000 years!

There were 43 sporting events and 241 athletes from about 14 countries!

We hope you enjoy The Great Shape-Up - a story about athleticism and sportsmanship at its finest.
April 10

: National Library Workers' Day

Libraries are a VITAL part of our culture, and in 2017, April 10th (or the second Tuesday of April) is a day when we honor those hard workers who make libraries possible: the staff!
April 12

: On this date... The first Space Shuttle flight

In 1981, NASA launched its very first Space Shuttle, Columbia! Coincidentally, its launch date was also the 20th anniversary of the first human spaceflight (Russian spacecraft, Vostok 1).

Learn more about NASA's Space Shuttle program with the TumbleBooks title, The Shuttle.

*Note that this title is not available on TumbleMobile at this time.
April 13

: Thomas Jefferson's Birthday

Happy Birthday, Thomas Jefferson!

Born on April 13, 1743, he would be 274 years old today!

Jefferson was the main writer of the Declaration of Independence, and served as the 3rd President of the USA, from 1801 to 1809.

Though Jefferson was not present at the Constitutional Convention, the inspiration for "Unite or Die", his influence was nevertheless felt.
April 15

: On this day... The sinking of the HMS Titanic

The sinking of the Titanic on April 15th, 1912, was a tragic event that will be remembered for a long time to come.

In "SOS! Titanic", two young adventurers travel back in time and board the Titanic. Though they cannot avert disaster, they may just save their new friend.

*Please Note: this title is only available on TumbleBookLibrary Premium.
April 17

: DC Emancipation Day

Emancipation Day in DC commemorates the day when President Abraham Lincoln signed the Compensated Emancipation Act in 1862.

By doing so, he freed over 3000 slaves in the District of Columbia. Nine months later, Lincoln signed the Emancipation Proclamation that freed over three million slaves across a large number of states.
April 23

: Happy Birthday, William Shakespeare!

Happy Birthday, William Shakespeare!

Shakespeare was born on April 23, 1564. Today would be his 453rd birthday!

He wrote many plays during his career. One of this Tumbler's favorites is "A Midsummer Night's Dream" - presented here, in a graphic novel format that can be enjoyed by kids from grades three and up!

*Please Note: this title is only available on TumbleBookLibrary Premium.
Arpril 24: On this day....Library of Congress established

Why do libraries matter?

Well, for one thing, the Library of Congress was established in 1800!

They're a VITAL resource for literacy, record keeping, dissemination of knowledge, and as a center for community resources and events!
April 26

: Administrative Professionals' Day

On April 26th we celebrate Administrative Professional's Day!

When I think about the important roll Administrative Professionals play in today's culture, I think of the TumbleBook "Tops and Bottoms".

A twist on the Aesop classic "The Ant and the Grasshopper", "Tops and Bottoms" warns readers against idleness and reinforces just how important it is to be prepared! Admins often perform tasks that may seem a little boring to outsiders, but they are SUPER important to the smooth running of the organization!
April 27

: Take Your Son or Daughter To Work Day

The classic TumbleBook, "If I Were You" lets a father and daughter imagine what it would be if they switched places! What would dad do if he were the daughter for the day? What would the daughter do if she were dad?

In "real" life, outside of your imagination, we have April 27th, and "Take your son or daughter to work" day! Kids get to explore the adult world of jobs, careers, water cooler chit chat, and staff room antics!

Now if only there were a "take your mom or dad to school" day!
April 28

: Arbor Day

Trees are one of the MOST important organisms in our environment, and it's very important that we all do our part to protect them!

On April 28th we celebrate trees through Arbor Day. Learn more HERE.

In "Trout are Made of Trees" we learn about ecology, and how everything is connected!
April 29

: Born on this Day... Amy Krouse Rosenthal!

Amy Krouse Rosenthal was born on April 29th, 1965.

Today would have been her 53rd birthday. Sadly, she passed away last year.

Today, we're thinking of Amy and her family by reading the lovely book "Duck! Rabbit!". It is a testament to her creativity and unique sense of humor.
April 30

: George Washington became the first President

On April 30th, 1789, George Washington became the first president of the United States! He served until March 4th, 1797, and was succeeded by John Adams.

But if he was the first president, where would he live? He had an IDEA! And "The House That George Built" is the story of how that idea came to life!
ALSO IN APRIL!!

April is... Jazz Appreciation Month!

Oscar Peterson is a world-famous Jazz musician! But every great musician starts somewhere!

April is... National Poetry Month!

Take some time to celebrate with some classic poetry!

April is... Math Awareness Month!

Join curious young Pythagoras on a journey through Egypt and discover the secret of the right-angle triangle!