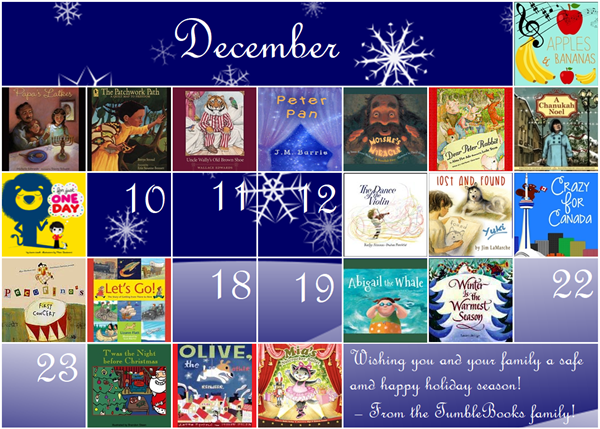 December Tumblebooks
Lisa Bernet
Thursday, November 29, 2018
TUMBLE BOOKS - At Home Log In Info
REMINDER TO PARENTS: With our Fair Grove Elementary School Subscription you also have access to these great digital books AT HOME!
CLICK HERE FOR USERNAME & PASSWORD INFO
December 1: Eat a Red Apple Day

They say that "An apple a day keeps the doctor away"! Well, as winter winds gain strength, and the last of this season's apples are harvested, take a moment today to bite into a big crisp red apple!

What's your favorite? Red Delicious? Gala? McIntosh? There are so many choose from!

And be sure to enjoy our TumbleTune "Apples and Bananas" too!
December 2: International Day for the Abolition of Slavery

North America is fortunate to have abolished slavery more than 150 years ago, however the fight for freedom is still an international issue.

Read the TumbleBook classic "The Patchwork Path" today and take a moment today to remember those who were enslaved and fought for their freedom with everything they had.
December 2 - 10: Eight Nights of Chanukah

Chanukah is a special Jewish holiday that is also called the Festival of Lights and the Feast of Dedication.

Celebrated by lighting candles in a menorah over eight nights in November and/or December, Chanukah commemorates the struggle of the ancient Jewish people against an enemy who wanted to force them to abandon their faith.

The three books we're presenting for Chanukah celebrate family, faith, and tradition.

Happy Chanukah, everyone!!
December 4: Wear Brown Shoes Day

When TumbleBooks began writing these monthly newsletters, we discovered that there's a holiday for EVERYTHING!

December 4th really is "wear brown shoes day" and there's no better way to celebrate than by reading about "Uncle Wally's Old Brown Shoe"!... except maybe by wearing your own brown shoes, of course!
December 5: Born on this day in 1901... Walt Disney

Happy Birthday, Walt Disney!

If he were alive today he would be 117 years old!

Walt Disney created beloved characters like Mickey Mouse and Donald Duck, and produced some of the most iconic animated movies in history!

Check out TumbleBooks' Read-Along Chapter Book "Peter Pan" and discover the inspiration behind the classic Disney film!

Note that this title is available with a TumbleBookLibrary Premium subscription.
December 7: Letter Writing Day

Whether it's hand-written and mailed, or typed out in an email, there's nothing better than getting a letter from a friend or loved one!

Letters tell stories, send information, pass along legends... But most of all they show that you care!

What kinds of letters will Peter Rabbit and his friends send each other in this TumbleBook favorite?
December 9: Children's Day

Today is Children's Day!

Celebrate what it's like to be a child by using your imagination and joining one little boy as he explores what it would be like to be someone or something different "for just one day".

Because... sometimes in order to appreciate what you have, you have to put yourself in someone else's shoes!
December 13: Violin Day

The violin is a beautiful stringed instrument that provides rich and diverse tones.

Reading about how Joshua Bell grew to love the Violin through one especially challenging piece in "The Dance of the Violin" is the perfect way to observe "Violin Day"!
December 14: Official Lost and Found Day

The second Friday in December is known as the Official Lost and Found Day!

The holiday began in 2012 as a way to remind people not to give up on things that were lost... just like the kids in TumbleBooks' "Lost and Found" series!
December 15: On this day in 1964... The Canadian Flag is Chosen!

Believe it or not, the Canadian Flag, as we know it today, has only been around since 1964! That's 54 years out of our 150 years since Confederation!
December 16: Born on this day in 1770... Ludwig van Beethoven

Happy Birthday Ludwig van Beethoven! If he were alive today he'd be 248 years old!

Beethoven was a prolific musical composer, and part of the reason why his music is so special is because he was almost completely deaf by the age of 30!

Imagine making music without being able to hear a note!

In the "Pecorino's First Concert", our hero is a mischievous little boy who just can't sit still or behave! What kind of silliness will he get up to at the concert? Read on!
December 17: Wright Brothers' Day

Wright Brothers' Day was instituted by President Eisenhower in 1959.

It commemorates brothers Orville and Wilbur, and the first flight of their "Wright Flyer I" on December 17, 1903.

Imagine just how far we've come in the 115 years since that first flight!

In TumbleBooks' Non Fiction book, "Let's Go", we explore how humans MOVE! How we get from place to place, and how we've evolved!

From relying on our own power to relying on horses. Then from horse-power to creating the most amazing machines like air planes and the space shuttle!
December 21: Underdog Day!

Celebrated on the 3rd Friday In December, Underdog Day is a time to celebrate those who people don't expect much from , but who try their hardest anyway!

Abigail is a true underdog! She is bullied, and has some self esteem issues. But with perseverance she can overcome her fears and learn to live her best life!
December 21: Winter Solstice

Today is the first day of winter!

On the downside, today is the shortest day of the year. No... it's still 24 hours long! But the length of time the sun is out is the shortest of the year.

On the BRIGHT side, it means that every day after that the sun is out for just a little longer each day!

So while winter can be dark, and cold, there's light at the end of the tunnel. And in the meantime you can read "Winter is the Warmest Season" to learn just how cozy the coldest season can be!
December 24: Christmas Eve

"Twas the Night Before Christmas" begins with perhaps one of the most famous opening lines in all of literature (second only to "once upon a time").

We hope you all have a safe and happy Christmas, and that your children (of all ages!) can contain themselves while waiting for the big man in the red suit!
December 25: Christmas Day

Merry Christmas, Tumblers!!

Today holds a lot of meaning for MANY people around the world.

First, it is a day for Christians to celebrate the birth of Jesus Christ.

While people around the world put their own spin on the day, the North American tradition involves elaborate decorations ("Oh Christmas tree, oh Christmas tree, how beautiful and brii-iiight")... and in that vein, we sing a lot of carols! We eat turkey!

But most of all, today is a day to spend time with family and friends, and to exchange thoughtful gifts.

Now, I feel like I'm forgetting something... what could it be?...

OH! Santa Claus! The big man himself! We hope everyone was on his "nice" list this year!