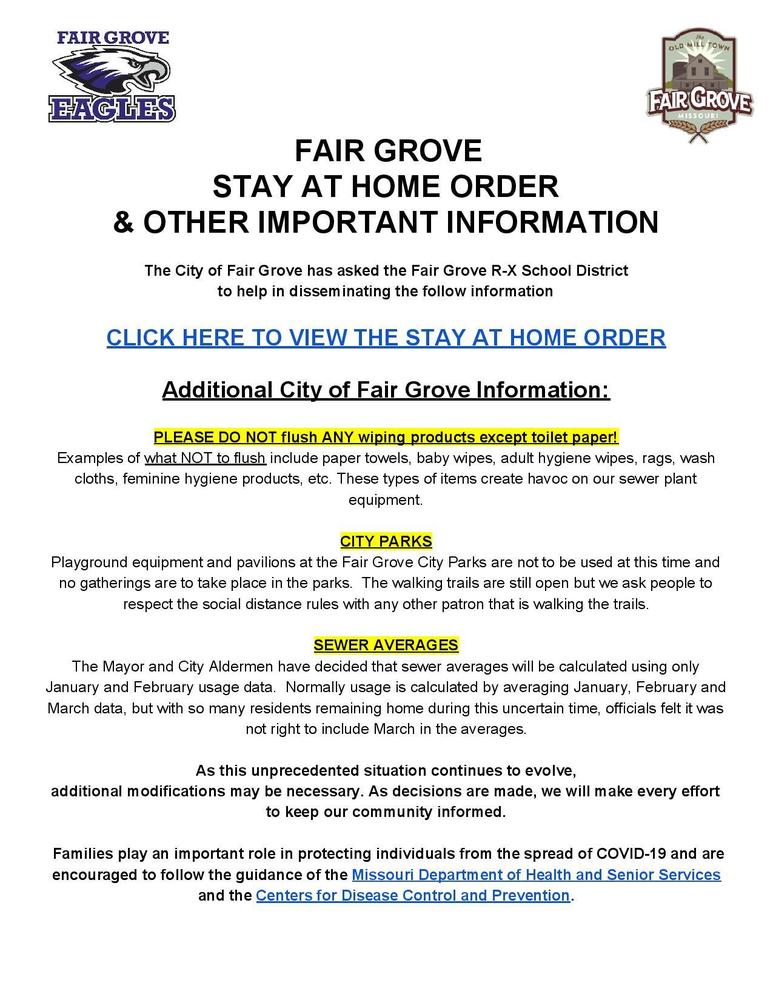 City of Fair Grove Stay at Home Order & Other Important Information
From FG City Aldermen & FG City Clerk - Dana Louderbaugh
Wednesday, March 25, 2020
The City of Fair Grove has asked the Fair Grove R-X School District to help in disseminating the follow information:
Additional City of Fair Grove Information:
PLEASE DO NOT flush ANY wiping products except toilet paper! Examples of what NOT to flush include paper towels, baby wipes, adult hygiene wipes, rags, wash cloths, feminine hygiene products, etc. These types of items create havoc on our sewer plant equipment.
CITY PARKS Playground equipment and pavilions at the Fair Grove City Parks are not to be used at this time and no gatherings are to take place in the parks. The walking trails are still open but we ask people to respect the social distance rules with any other patron that is walking the trails.
SEWER AVERAGES The Mayor and City Aldermen have decided that sewer averages will be calculated using only January and February usage data. Normally usage is calculated by averaging January, February and March data, but with so many residents remaining home during this uncertain time, officials felt it was not right to include March in the averages.
As this unprecedented situation continues to evolve, additional modifications may be necessary. As decisions are made, we will make every effort to keep our community informed.
Families play an important role in protecting individuals from the spread of COVID-19 and are encouraged to follow the guidance of the Missouri Department of Health and Senior Services and the Centers for Disease Control and Prevention.