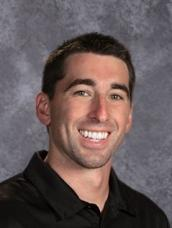 ​CALE RAMSEY ANNOUNCED AS FAIR GROVE HEAD BOYS BASKETBALL COACH​
Christian Overstreet
Monday, April 30, 2018
The Fair Grove School District would like to welcome Coach Cale Ramsey to our district as the newest high school boys head basketball coach and physical education/health instructor. The Fair Grove R-X Board of Education approved the hiring of Coach Ramsey on Friday, April 27th.
Ramsey is a familiar face to the Fair Grove District. He was employed as a para professional and assistant basketball coach during the 2012-2013 school year. Since his stint at Fair Grove, Coach Ramsey was the head HS boys basketball assistant at Republic HS, winning a state championship in 2014. Coach Ramsey was hired as a physical education teacher and head boys assistant basketball coach at Logan-Rogersville High School where he taught physical education and coached MS football and HS boys tennis.
Coach Ramsey is excited to be a part of and add to the already strong culture at Fair Grove High School. His energy, strong work ethic, and attention to detail are going to be the ground work for his future success. Coach Ramsey believes in building strong relationships with his players and taking the opportunity to make them great both on the court and in the classroom.
Current members of the FGHS basketball team were introduced to Coach Ramsey Monday morning.