It is almost TIME!!!!
Below are some important dates to put on your calendar as well as a few links you will want to check out:
8/13 5th Grade orientation 6pm-7:30pm
(Mr. Green to speak at 6pm)
8/14 Pre-K - 4th Grade Meet the Teacher/Open House 5pm-7pm
(Eagle Outfitters will also be open that evening)
8/22 Board of Education meeting
8/16 All students return to school
8/24 School Picture Day
9/14 Grandparent's Day in the Elementary
The info above plus links to the following info can be found on the School Website: www.fairgroveschools.net
Athletic Calendars, Meal Menus...and much more!
Mighty Mites & Jr. Cheerleading 2018
Registration August 22 & 23 6:45p-8:30p Read More...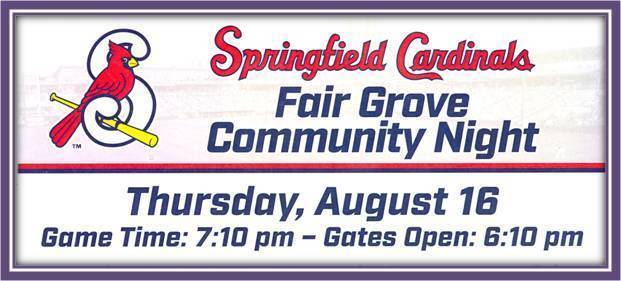 Kick off the start of school with Springfield Cardinals Fair Grove Community Night - August 16th - Read More...
Fair Grove School District is in need of SUBSTITUTES! (Sub-Teachers, Sub-Cooks, Sub-Custodians, Sub-Bus Drivers) Read More...